Thomas And Friends Alarm Clock and Watch £6.27 @ MyMemory.co.uk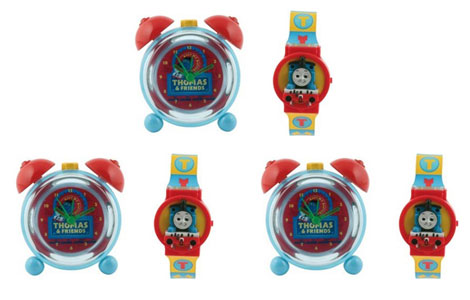 "PEEP PEEP! It's time to go!" says Thomas.  MyMemory.co.uk are selling this Thomas and Friends Alarm Clock and LCD Watch gift set for just £6.27 - it should be £17.99.
I haven't posted any Thomas the Tank Engine deal for quite a while (well it feels like it anyway), but there's not a HUGE amount I can tell you about either the clock or the watch.
The clock - it's round and it has two hands, a big one and a small one, and they point to any one or two of the 12 numbers on the face. It has two red bells on the top that will ring like crazy and probably make you jump out of your skin - I had a brass clock like this once, I woke up with a near heart attack every single day.
The watch is an LCD watch and has a flip-up cover on the front which features Thomas (obviously) and the strap is adjustable (again, obviously).
The clock requires one AA battery which isn't supplied, and the watch comes with its necessary Varta V392 battery.
There's no delivery to pay on this Thomas and Friends Alarm Clock and Watch gift set, so if you've got a Thomas fan who's about to embark on the journey that is learning to tell the time, then this could be an ideal little pressie for them that won't break the bank.
Thanks to christopherguy25 at HUKD