Thomas and Cranky Coal Loader £17.49 @ Toys R Us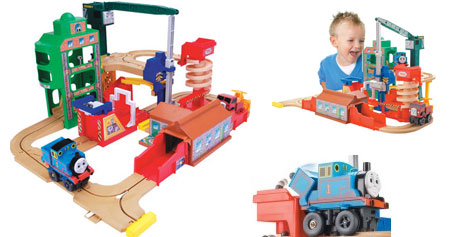 SSSHHH!!! Please don't say, "Thomas and Cranky Coal Loader! For £17.49 instead of £39.99!" out loud, my youngest will hear you and then I'll be in BIG trouble!
He's already clued up on how to spot a bargain, "It's not very expensive mummy, it only costs a tiny piece!"
A tiny piece of what I'm not quite sure but you know how relentless the pester-power of a four-year-old is, right?
We have the mining version of this Thomas and Cranky Coal Loader and it's brilliant; hours of fun have been had with it and if we didn't already have almost every Thomas toy known to man, I'd buy it, but we do – so I'm not going to.
But you see, my youngest loves Cranky and all cranes have been called Cranky ever since he could talk – and he'd love this…I'm still not going to buy it!
Thomas and Cranky work together as a team loading coal. Thomas takes the coal to the quarry and carries it up the lift where he drops it in to the hopper at the top. It drops down the chute where it's ready for Cranky to lift up and put into the loading bay!
I'm telling you, there's endless fun to be had just doing that over and over again and your little Thomas fan will LOVE you forever...well, until the next Thomas thing hits the shelves.
You can collect this from your nearest Toys R Us or have it delivered for £4.95.