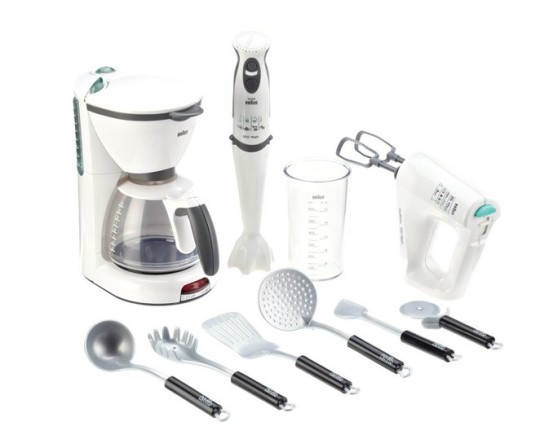 Amazon are selling this Theo Klein Braun PLAY kitchen set for £11.38 delivered. I had to double check to see if it was a real set or not, and it actually took me a minute to work out. It looks so authentic, but no, it's battery operated and an awesome play kitchen set. I'm not convinced that it's ever sold at the RRP of £59.99, but it has sold for as much as £41, so this is a pretty great price.
The Theo Klein Braun Kitchen Set gives you pretty much everything your little one needs to be a master chef, or run a cafe, or simply copy you in the kitchen.
Included in the set is a blender with a measuring cup, a coffee maker, a hand mixer, and a variety of kitchen implements.
You'll notice that the only negative review on this product is someone complaining that it's like a child's toy... well, go figure. To be fair, it took me a few looks to be certain, but yes, it's a child's toy and a great price for a very realistic looking toy set!