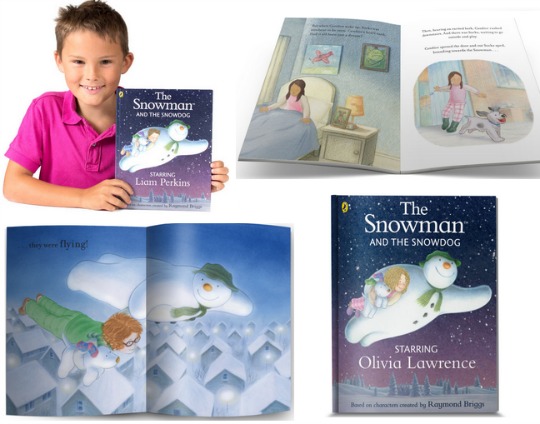 At first I saw the price and dismissed this...then when I looked properly I was won over. This is a Personalised Book version of The Snowman and The Snowdog by Raymond Briggs, but instead of just adding your child's name to the text they add a cartoon version of them to the pictures as well. How amazing is that!
The story is based on the original, but the child that builds the Snowman and Snowdog is your own. When you add the personalisation you specify their name and can write a personal message, but you also add your child's hairstyle and colour, skin tone, and the colour of clothes and pyjamas so that a cartoon version of them is 'drawn' into the book.
The Paperback version did cost £17.99, and the Hardback is £24.99, but now there is 20% Off those prices, and there is a £2.50 delivery charge. It is a little more expensive than the gifts we normally tell you about, but for something this unique and individual it's actually not a huge amount of money to pay.
To receive this by Christmas you need to have created and ordered your Personalised Snowman and The Snowdog Book by December 18th.
Thanks to goonertillidie @ HUKD.