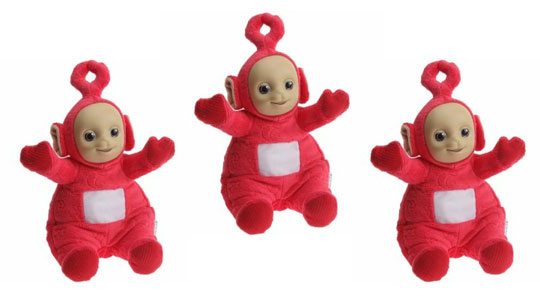 Time for Teletubbies; time for Teletubbies!  Home Bargains are selling this Hug n Glow Po for just £6.99, her usual price is £14.99
My teenage children are member of the original Teletubbies generation; I remember when they first hit our TV screens and the UPROAR that ensued!
There were groups who felt their baby language would stunt the speech development in an entire generation  of children; there were fears that tubby custard would be splattered in homes across the land.  Tinky Winky was possibly gay - I mean, why else would HE be carrying a handbag?!  And to think, now manbags abound and no one bats an eyelid at the copious amounts of wax 'manscaping' that goes on in beauty salons and spas up and down the land!
My daughter's favourite Teletubby was Po - she's the youngest Teletubby and loves to scoot on her 'pooter'.  She also loves hugs which is exactly what she'll get lots of if you give a Hug n Glow Po a home - her tummy will glow and she'll sing a lullaby for five minutes to your sleepy child before they both go to sleep.
She's suitable from birth and I think she's just lovely!
If you are lucky enough to live locally to a Home Bargains then you can arrange to collect your Hug n Glow Po, for free, in-store.  If you don't, and you don't know anyone else who does, then you're going to have to pay up to £2.95 to have her delivered to your home.
Thanks to Wadjet at HUKD