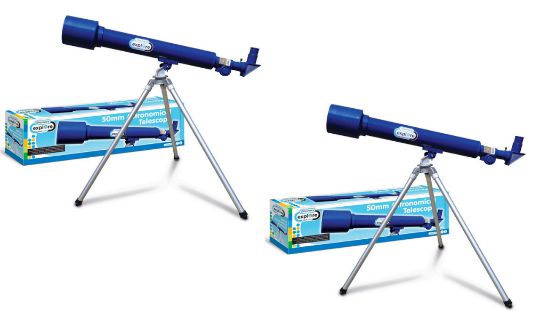 Looking for something a bit different from dolls and Lego? Why not buy something a bit more educational? My eldest two love Lego but if I bought them a telescope they would be over the moon. Excuse the pun! We have found the Discovery 50MM Astronomical Telescope for just £11.24 at both Amazon and Tesco Direct. The very same telescope sells for £29.99 at Maplin so we reckon this a great deal.
Don't go expecting to see close up details on the moon as this Discovery Telescope is a toy. It will magnify etc, but it is for fun more than educational. What it will do is get your child interested in space. That's not a bad thing.
It's a 50mm Telescope with 30 - 60 magnification and includes two eyepieces (16.6mm and 8.3mm). The Tripod it sits on is made from aluminium.
It has a 3.5/ 3.6 star rating on the sites with mixed reviews too. I think for under £12, this is a good shout for that older child. It's not going to be like a NASA grade one but at it's current price I doubt you are expecting that.
Delivery is FREE from Amazon if you have Amazon Prime or are spending £20+. If neither of those apply then you can collect from a Tesco store for FREE or pay £3 to have it delivered to your door.