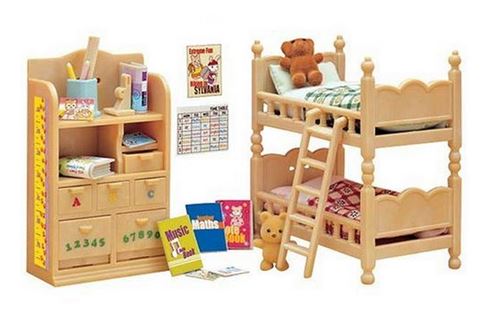 Amazon has a fantastic 64% off the Sylvanian Families Children's Bedroom Set, selling for £8.13 instead of a supposed £22.84. It is available at other retailers from about £12 though. It's a great add-on item, otherwise you need to add £3.30 to the order.
A lovely little Sylvanian Family set to give the critters a place to sleep. It comes with 2 small flocked teddy bears, bedding, books and a host of other accessories, including the beds, which can act as a bunk bed or two single beds.
There are also duvets, mattresses, pillows, pictures, a school time table and more - making around 16 accessories all together.
There is also a really cute bookcase, with a "wooden" look, and stickers which can be used to decorate the bookcase including a size chart. The bookcase is a great place to stack all the accessories and there are plenty of drawers to put things in.
The reviews on Amazon are all pretty good and most seem to suggest that it'll make a great Christmas present.