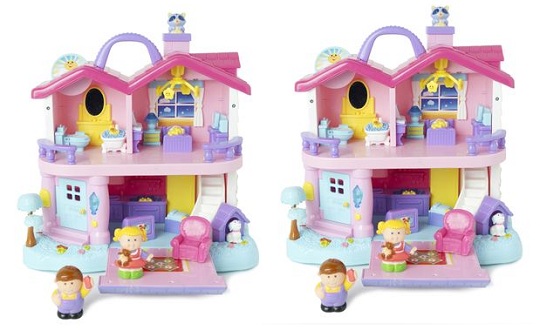 This adorable Sweet Dream Cottage from Hamleys will make an awesome Christmas gift this Christmas. Watch your little girls face light up as she opens it up on Christmas morning. Even better it has been marked down from £35.00 to £27.50.
Let your children play house at the Sweet Dream Cottage. This pretty and pink cottage is the perfect first little house playset. An adorable two storey house, the Sweet Dream Cottage comes with furniture and two figures, Mr and Mrs Sweet Dreams, for lots of fun.
The cottage is packed full of realistic sounds and lights, the dog barks and the doorbell even rings. Playing with the characters and all the different parts will help develop your child's hand-eye coordination. A fantastic playset, the Sweet Dream Cottage encourages imaginative play and social skills. You can even change the sun dial to change daytime to night-time.
This is a fabulous gift for all little girls! It'll definitely be a favourite this Christmas.