My Sweet Baby 2 In 1 Pram £10.97 @ Asda George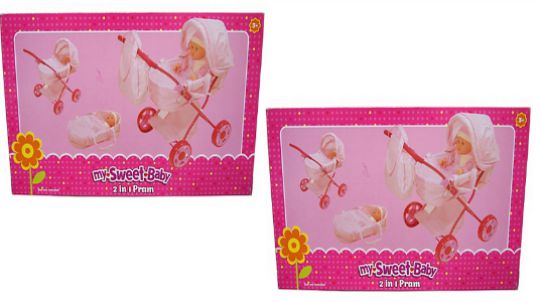 Looking for a Dolls Pram? Get this My Sweet Baby 2 in 1 Dolls Pram from Asda George for only £10.97. It was £14 but is reduced as part of their toy sale. It has a 4.1 star rating and the reviews seem great. As it's so cheap it's ideal for gifting to those little ones that are friend's kids rather than relatives. You know when you want to buy something nice but are not wanting to spend a fortune. I think this fits the bill nicely.
Asda George suggest that this is only suitable for children aged three years old and over, although the reviews suggest that due to the size of the pram, it's more like 18 months+. We always suggest that you follow retailers recommendations as 9 times out of 10 it's for safety reasons.
It's 2 in 1 because the pram  can transform into a baby carrier.  It's a bright pink design and comes with a Changing Bag which is great for the price of this dolls pram.
You can Click and Collect the My Sweet Baby 2 in 1 Pram for FREE from an Asda near you or pay £2.95 for home delivery.