Super Savings Up TO 80% Off @ Kiddicare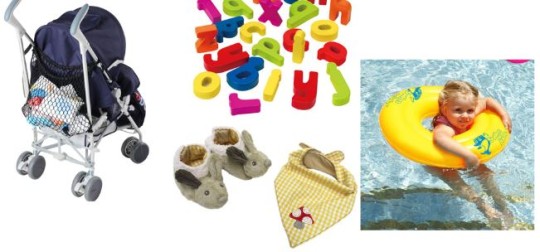 Kiddicare has up to 80% off on their toys at the moment. This offer has been on for a few hours now and much of the stock levels are pretty much decimated, but we've found a few items still available and cheap as you're likely to find it.
If you're off on a poolside holiday this summer, save your vacation pennies by buying a floating ring for your little one now. So much better buying a swim ring or £1 than forking out £5 - £10 at the resorts gift shop!
Summer or not, rainy days require indoor activities, and these wooden alphabet letters are reduced to £3, with another 10% taken off at the checkout, making them just £2.70. They're lower case letters, so ideal for helping your little people with learning and improving their reading and writing skills.
The mesh stroller bag Tamsin told you about earlier this week is down to .75p, minus another 10% too, so now just .67p.
Finally, I absolutely love this bunny gift set, reduced to £2.70 and the booties and bib will make just a perfect new baby gift.