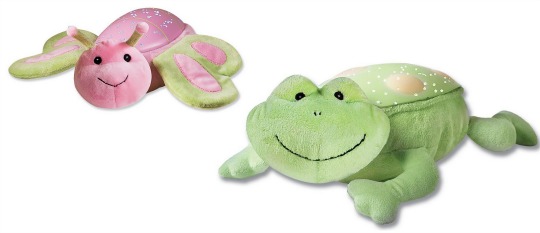 These Summer Infant Slumber Buddies are now half price at Amazon, and they have free delivery included as well, so that's a really great price. The 'Bella The Butterfly' and 'Frankie The Frog' are both down from £24.99 to £12.49, and there are more styles available at £14.99 as well.
These Slumber Buddies are designed to help babies and toddlers drift off to sleep with a soothing and colourful light show, and gentle lullabies. As well as the lullabies there are nature sounds and a heartbeat which should be especially calming for very young babies.
They have a velcro strap so that they can be attached to the cot, and as they are small the Slumber Buddies are great for travel or sleepovers as they will create a familiar environment for baby to settle off to sleep.
The reviews are hugely positive on these Slumber Buddies at Amazon, so for £12.49 with free delivery you could be making a big difference to your baby's bedtime. It might be just what is needed for those still struggling with the changing clocks and the earlier evenings.
Thanks to Kimberly81 @ HUKD