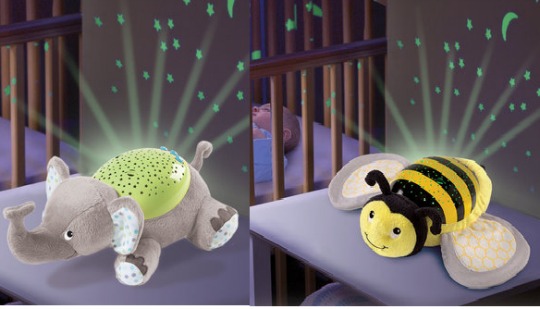 When children are scared of the dark it is not just harrowing for them but it is for you too. Summer Infant Slumber Buddies are just the ticket for little people that can't go to bed in darkness. They come in four different designs: a butterfly, bee, elephant and a frog. If you are on the lookout for a night light then you will be pleased to hear that these Summer Infant Slumber Buddies are just £12.49 from Amazon and Toys R Us. Buy it from Amazon and you will get it delivered for FREE with Amazon's Super Saver delivery.
Not only are the Summer Infant Slumber Buddies a night light but they are plush toys too, which makes them great for a comfort toy that they can take to bed.
These omit a glow that projects moon and star shapes onto the bedroom ceiling. It's not stimulating in the slightest, I know because we have one. They are not so bright that they will light up the whole room.
If you choose to purchase the Summer Infant Slumber Buddy from Toys R Us then you can reserve and collect yours. Delivery is £4.95, so if you do need it ordered then buy from Amazon.