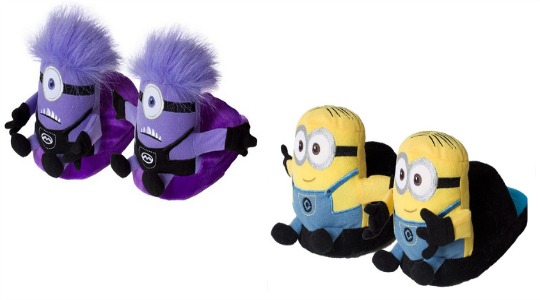 The world has gone Minions daft and so have I. It's hard not not to love those hilarious little yellow dudes. There are lots of toys on the go as well as Minions clothes but I think these Stompeez Slippers are the best out of the lot. HighStreetTV.com are offering two different styles for just £14.99 with FREE delivery.
I have come across Stompeez featuring Minnie Mouse and many other characters but none as fitting as Minions. They are constantly on the go, so the notion that every time you step in these slippers they jerk about, seems just right.
Stompeez are a fun way of getting children to wear slippers. They are thick and plush for little tootsies, if not a little bulky so get the kids to be careful wearing them on stairs.
HighStreetTV.com have lots of sizes in stock for these Minions Stompeez Slippers, from a infant 7 through to and infant 5.
Argos are selling Minions Stompeez for £14.99 too BUT they aren't offering FREE delivery. If collecting them suits you better then you can order them here*.