Sticky Toy Story 3 Toys With Target £1 @ Poundland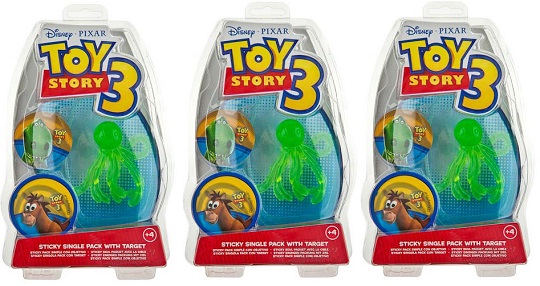 This is a great little buy for party bags and similar. Or who knows - put some away for next year's Christmas stocking! These Sticky Toy Story 3 With Target cost just £1 each at Poundland.
This toy is a game. You stick the target on a window, place the image on the target, and then throw the sticky at the target. The fun comes from being able to challenge all your friends. The winner is the person who catches the most pictures.
There's very little information on the website. From the look of the pack, it seems you get just one sticky toy in each package. It doesn't say what toys from the movie are available - it could be that all of them are. Strangely the pictured pack on the website has an Octopus thing in it, rather than a more familiar Woody or Buzz toy. I'm actually a bit stuck trying to remember an Octopus character in the movie. So I figure that the Octopus is the sticky bit for the window, and the Toy Story Character is what you get on the image you can collect.
Click on the button on the website to find your nearest story to pick some up. At least then you'll be able to have a look at which ones you're getting.
Thanks to TEMP11 at HUKD!