The Sticky Mosaics Butterflies Review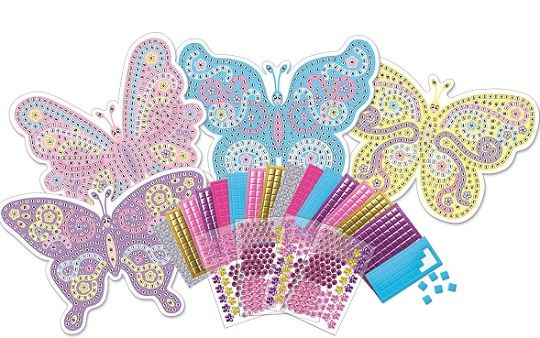 Recently my daughter was given a box with three cardboard butterflies, a ton of sticky bits of paper, some gems, and simple instructions. Entitled the Sticky Mosaics Butterflies kit, this looked like an unlikely heroine to save me from the clutches of the school holidays/work/life juggle.
Wow, was I wrong.
The Sticky Mosaics kit gripped my daughter's imagination and stole her away at a dazzling speed. She sat down on the floor in my office and proceeded to sing and hum the most adorable songs as she carefully peeled the sticky coloured squares off their backing and put them where they were supposed to go.
The premise is simple. The butterflies are covered in numbers. The numbers correspond to one of 23 different colours, gems, jewels, diamante stickers and sparkly shapes. These are thick and sturdy and very well made. They can be peeled off and re-stuck in case of mistakes, and stay firmly attached when the butterfly is hung up on the wall.
Oh yes, these kits also come with four plastic hangers so your child can proudly display their work on the wall. The designs are also fantastic. After three uninterrupted hours of work. Yes, THREE. I turned around to see two of the butterflies completed and they looked gorgeous. So much so that visitors have commented on them and even two boys who came on a playdate thought they were cool. And that's saying something!
The kits are suitable for kids over the age of five and are currently on sale for £14.99 on Amazon. You get over 1900 sticky pieces with plenty of extras in case some go missing or lose their sticky edge. I have been so impressed with this set that I've already gone out to buy the next one, Handbags.