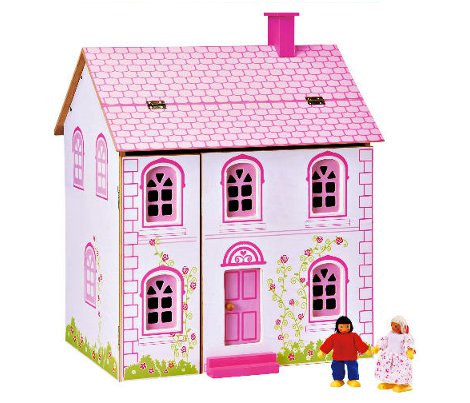 Tesco Direct are selling this Little Steps Wooden Doll's House for half price - £20 instead of £40.
Hello, my name is Sarah and I'm a wooden toy snob. Give me the choice between paying next to nothing for a bit of plastic tat or through the nose for its wooden version, then I'd rather part with substantially more cash for the wood.
However, with this rather nifty little deal on this Little Steps Wooden Doll's House from Tesco Direct you won't be paying through the nose for anything (unless you choose to pay £5 for home delivery rather than collecting it in-store for free!).
The Little Steps Wooden Doll's House is Georgian in style and has two floors, included in the price are 15 pieces of furniture along with two dolls - they could be your Wooden Doll's House lodgers, or staff.  I'd go for staff - a housekeeper/cook and a gardener sounds pretty good to me.
This Little Steps Wooden Doll's House will encourage imaginative play; even though there are benefits to all the bells and whistles educational toys, you can't beat playing just for fun, where everything comes from your own imagination rather than being led by buttons and voices telling you what to do.
If you're still unsure then check out the reviews on the Tesco Direct site, they're pretty good and should help you along a little bit in making up your mind.
Thanks to missgem at HUKD