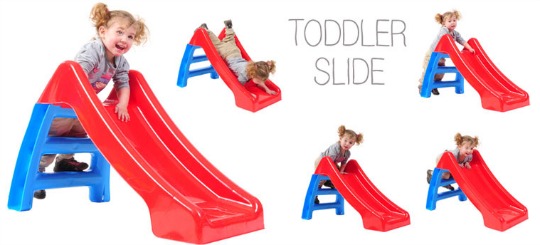 Yes, it's snowing here too, but I'm still thinking of the spring time, and so are the shops if the new garden toys popping up are anything to go by. Home Bargains have this Starplay Junior Fun Slide down from the RRP of £34.99 to £19.99. If the RRP looks a bit high, the sub £20 price tag now looks more than reasonable, and it's the same price they were charging for this last summer, and that sounds good to me.
This is a sturdy plastic garden slide, and you can see from the photos and the measurements in the description that it's not for the big kids, but the toddlers. For little ones just exploring and learning to climb (and fall!) safely this looks like a great little starter toy for the garden. It's not too high, has no sharp edges to snag or scratch, is nice and easy to clean, and has no minimum age advice, only a maximum weight (30kg). That's my toddler occupied for the spring and summer, when it finally gets here.
This Junior Fun Slide is available in store from Home Bargains subject to local availability, or you can order online. It's not available for Home Delivery though, you can only click and collect from stores. If you don't have a store nearby yet then they have 370 and counting, so just hope they open one near you soon!