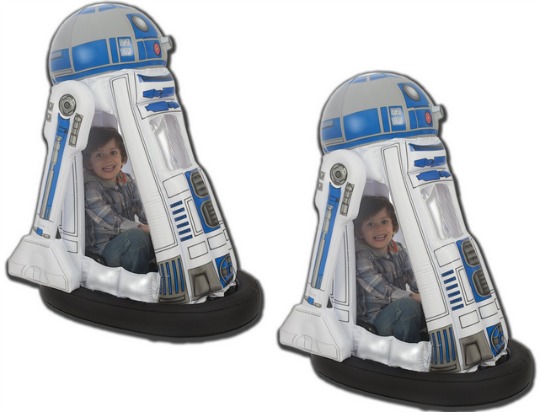 Oh bums! I am gutted that I have bought all of my "big" presents already. If only I had seen this fantastic Star Wars R2D2 Motorised Ride On Car. It's only £54 at The Original Factory Shop, plus you get FREE delivery included. I cannot find this anywhere else for this price. This may just be the best £54 you could spend this Christmas.
I know what you're thinking, that your not putting your child in this as it looks like it'll crash and clatter into everything. Don't worry the body part is inflatable, which not only cushions the blow but just enhances the fun.
This uber cool R2D2 Motorised Ride On looks like utter hilarity and I think even non Star Wars fans will LOVE it. The fact it can rotate 360 degrees by pressing the foot pedal is ace. The unit itself doesn't go back or forth but just round and round.
It comes with a rechargeable battery and a charger for it. R2D2 also sounds out the Star Wars theme tune and phrases along with providing a light show.
I am not sure toys get more awesome than this. Remember that delivery is FREE, so why not consider this if you are looking for something different.