Star Wars Millenium Falcon Model Kit £17.99 @ Amazon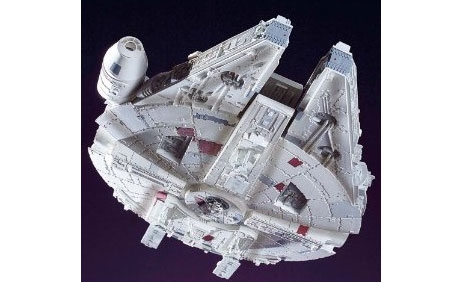 Ohhhh I'm in such big trouble, I W.A.N.T this *sigh* Amazon are selling this Star Wars Millenium Falcon Model Kit for £17.99 instead of £36.99.
"What a piece of junk!"
"She'll make point five past lightspeed. She may not look like much, but she's got it where it counts, kid. I've made a lot of special modifications myself."
All self-respecting Star Wars fans will now be reciting other great Millenium Falcon lines in their heads (or out loud I suppose) and if you have no clue who uttered the immortal lines above, then you're either under 10 years old or have been living on a desert island for at least the last 30 years.
This Star Wars Millenium Falcon Model is great on so many levels, not least because this is the ship that made the Kessel Run in less than 12 parsecs and can outrun outrun Imperial starships. Not the local bulk cruisers mind you, I'm talking about the big Corellian ships.
All 52 pieces snap together so you don't have to worry about getting covered in glue. It comes with fully illustrated instructions and the parts are already painted for you; the wings move, it has laser canons (of course) and a moveable cockpit cover and two figures are also included.
Thanks to shadow1 at HUKD