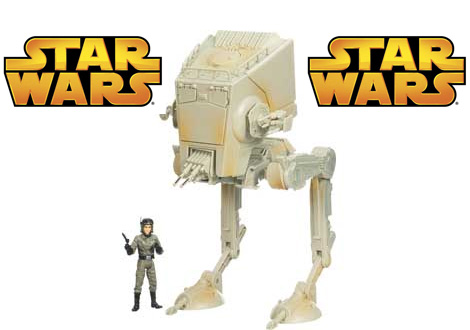 Argos are selling this Star Wars AT-ST Vehicle for less than half price, it was originally £49.99 but is up for grabs for £19.99.
Looking at this Star Wars AT-ST vehicle takes me right back to watching Return of the Jedi as a kid at the movies - remember when Hans Solo, Leia and Chewy were on Endor to disable the shield around the under-construction replacement Death Star?
(I've suddenly got the fear that someone is going to tell me that ACTUALLY the movie I'm thinking of was Empire, but my brain is hurting with trying to run through both movies super fast so if I've got it wrong...SORRY!)
Anyway, Hans Solo and Princess Leia are trying to break into the shield 'whatever' building with R2-D2 when an AT-ST vehicle comes striding out of the forest and points its guns at them; the hatch then opens and to everyone's relief (the whole cinema included) it's Chewy inside; hurrah!
This particular Star Wars At-ST vehicle has articulated legs so you can pose it mid-stride.  It comes with an AT-ST Driver figure, who fits inside, and of course wouldn't be complete with weapons, missiles and instructions.
Thanks to kinsella1981 at HUKD