Squinkies Activity Collection 3 Books 2 Squinkies £2 @ The Book People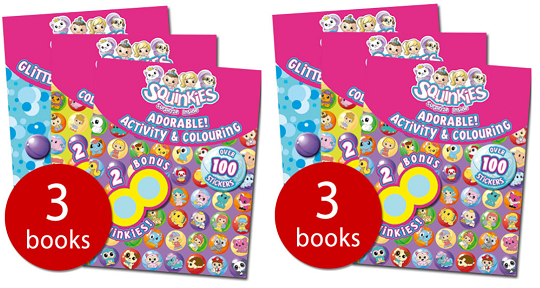 I may not be a huge fan of the customer service and deliverables of The Book People – they constantly forget to update my points and every delivery has arrived late and a bit damaged – but their prices are excellent. This Squinkies set is brilliant for kids and the upcoming Christmas present buying season.
The soft and squishy Squinkies have become the must-have collectable of 2012 and this set includes three books and two Squinkies to add to your collection. The books are activity books with fun activities, puzzles and games as well as lovely Squinkies to use for decoration.
This set is brilliant for keeping kids entertained as the winter sets in and the rain comes down and the books include the Glitter Sticker Surprize, Dorabel! Activity & Colouring, and So Cute! Colouring and Activity. Now I just need to go out and figure out what a Squinkie is…
Thanks to andywedge at HUKD!