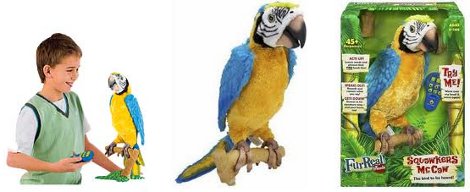 The FurReal Friends Squawkers McCaw is half price at Argos, selling for £34.99 instead of it's usual £69.99 price tag.
Pets are great for every child, I think. The problem is they tend to live for quite some time! The upside of a toy McCaw is that it doesn't have to stay with you when Junior leaves home – since real McCaws live for a good 14 or so years!
This parrot is a talking, squawking play pal with plenty to say and you can train him to say more. He will respond to you with more than 45 words, phrases and silly sound effects such as whistling, laughing and making noises.
You can also record additional words and phrases and -says Argos – even train him to talk back to you just like a real parrot.
Argos' description also says that you can feed him crackers at which he makes yummy sounds, but I have to admit I don't know how that works! I have a mental image of some electronic digestive system right now, which is rather unlikely.
You'll need two AA batteries for this, and it's currently out of stock for delivery, but can still be reserved for instore collection.
Thanks to 5426Angela at HUKD