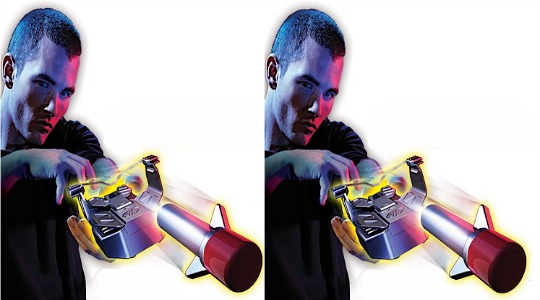 My son's favourite toys are his Spy Gear equipment. He has the door alarm to keep his little brothers out and he also has the Spy Gear Spike Mic and Launcher. Oh how he finds it hilarious when he records my conversations with my friends as we moan about our other halves. You can get the Spy Gear Spike Mic and Launcher reduced from £25 to £3 over at The Entertainer. I can tell you that I paid £25 and it's played with so much that I would pay that again.
The idea of the Spy Gear Spike Mic and Launcher is that your darling child will catapult a dart shaped microphone into a room. You will be unaware and this little dart microphone will record everything you don't want your kids to hear. Just watch you aren't gossiping about how you know Sandra down the road is having an affair with Amy's Dad or anything else like that!
Ignore the picture, this is a kids toy and I find it hilarious that they have used an adult. It just looks creepy and wrong!
I highly recommend this at £3, especially for a birthday party present. These are so cheap you could use them as party game prizes.
You can Click and Collect these for FREE from a The Entertainer store near you or pay £2.99 to have it delivered to your home.