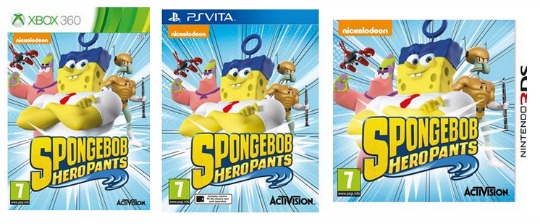 If your kids are into SpongeBob then they will probably be begging you for this new game, as well as dragging you to the cinema to see the new movie!
The SpongeBob HeroPants is a brand new game that ties in with the film and is released today, exclusively at Smyths Toys. It's available for the 3DS, the Playstation Vita and the XBox 360 and is priced at £24.99 for all of those formats.
Here's what you get to do in SpongeBob HeroPants:
Play as SpongeBob as Invincibubble and all of his friends! Dive into SpongeBob's crazy imagination with enemies like Burger Spatulas, the terrifying Lollipop Creatures and even Squidasaurus! Weave your way through obstacles and puzzles in environments like Dream Land and Prehistoric Bikini Bottom! Collect pirate coins to upgrade your characters with special hero abilities!
Kids (and grown ups) who love SpongeBob will probably love the daft humour, and it's suitable for over 7's. Delivery is a steep £4.99 though, so if you have a store near you then you can use the Free Click and Collect instead.