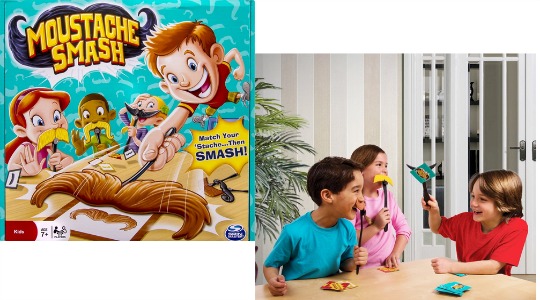 Sometimes my kids go nuts when certain toy adverts come on. On of those ads is for the Spin Master Moustache Smash Game. I have gotten sick of paying £10 to £20 on board games that are rubbish though. This one seems to be the exception as it has a 4.9 star rating on Argos and 4.6 on Amazon. It must be good and it's worth a bash at just £3.74 at both of those retailers.
The Spin Master Moustache Smash Game really does look like fun. Who doesn't want to muck around with furry lip rugs. The aim of the game is to match the colour or shape of the moustache with the one you are holding and smash it with the whacker. The person who collects the most cards wins.
Expect fighting and lots of laughter, all board games cause bickering whether it be adults or kids playing. Three to six children can play Moustache Smash at once.
You can Reserve and Collect the Spin Master Smash Game for FREE from Argos or pay £3.95. If you buy from Amazon then it'll be delivered for FREE if you add it to an order totalling £20 or more. If ordering it on it's own then it costs an extra £3.30.
If you spend £20 or more on board games sold by Amazon, use promo code GAMESFIVEat the checkout and get a fiver off!