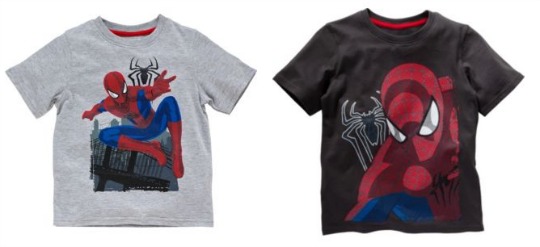 Check this out! Argos are selling Spiderman T-shirts for £1.99 each. There's two different designs, and stock availability couldn't be any better. 100% of the stores I checked, all over the United Kingdom, had stock.
The first of the two Spiderman T-shirt designs is a grey marl short sleeve garment, featuring a large action shot of Spidey himself. This T-shirt is machine washable at forty degrees and is made up of 93% cotton and 7% polyester. Fine for keeping your little one cool in the summer. Argos originally had this one on sale for £3.99, before reducing it to £2.66 and then down to it's current price of £1.99.
The second design is a much darker grey colour and again has a large Spiderman motif on the front. Same material composition as the other T-shirt and is also machine washable at forty degrees. This too had an original selling price of £3.99 but is now at £1.99.
The sizes available start from 18-24 months through to 4-5 years old. Stock appears to be plentiful in all sizes over both the designs. Although, I will warn that these kind of items sell very fast and the stock levels can deplete very quickly.
You can reserve and collect either Spiderman T-shirt from your local Argos for free or pay £3.95 to have it delivered.