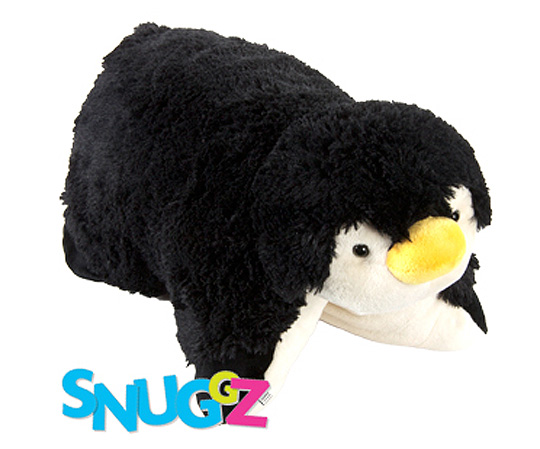 Home Bargains are selling this Snugzz Penguin Pillow Friend for £4.99 rather than £13.99.
There are various brand incarnations of these cuddly pets that open out into snuggly pillows - I can't see any differences between any of them, other than their names and prices.
I'd written about some of them way, way back but had never actually seen one 'in the real' until I was sent one to review - you can read the review HERE, if you'd like to get a detailed low-down.
I enlisted the help of my five-year-old niece and to say she fell in love with her Pillow Pet version of the Snugzz Pillow Friend would be the understatement of the year! She was, and still is, utterly inseparable from it.
Essentially, you have a big (and they are big - not where they look big online, then they arrive only for you to discover they're at least half the size you thought they were!) soft and cuddly pet friend who fastens up underneath with a little velcro strap - perfect for cuddling - open them out and they become a lovely pillow or cushion to sit or lounge on.
My niece also uses hers, when it's folded up, as a pyjama case. If you're after a super-cute and cuddly stocking filler that's rather substantial and looks like it cost far more than it did, then you won't go wrong with one of these.
You can arrange to collect your Snugzz Penguin Pillow Friend, at no extra cost, from your local Home Bargains store; if you don't have one close to you then home delivery will cost you up to £2.99, depending on how Home Bargains classify the size of your parcel - if it's a small parcel then it'll only cost you an additional 99 pence!
Happy snugzzing!