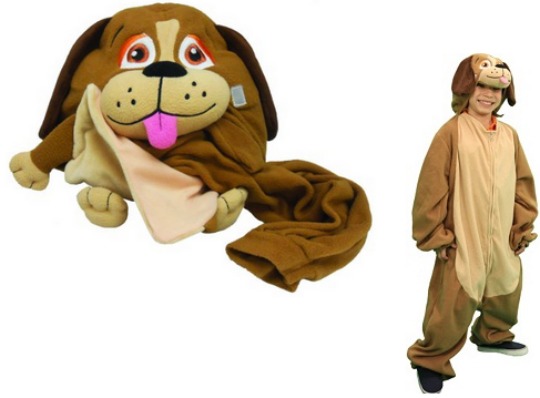 Snuggle Pets...never off of the advert breaks on the children's channels. The Snuggle Pets J-Animals Junior Dog sells for £24.99 at the likes of Toys R Us, £9.99 at Argos and just the bargain price of £5.51 at Amazon. Wow! What a saving! If you are wanting this then I suggest buying it now as Amazon have a habit of putting up prices when items get popular.
The unique selling point of Snuggle Pets is that not only are they a wearable, snugly onesie but they actually fold up into a cuddly toy. Pretty nifty.
There's only one size available at this price and that's the 120cm so I reckon that's for approximately a four to seven year old. I have felt these before and they are lovely quality and most definitely worth their £5.51 price tag. It's machine washable too.
To get your Snuggle Pets J-Animals Junior Dog delivered with Amazon's FREE Super Saver Delivery you must add something to your order to make it up to £10. Why not buy two at this price and stick one away to give at the next birthday party your little one is invited to. Think how generous it'll make you look.