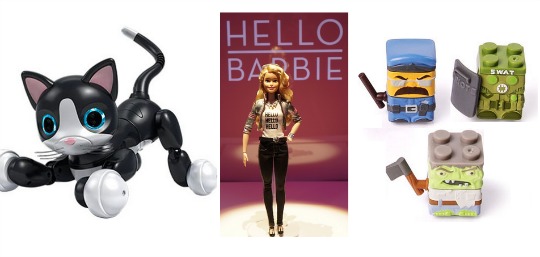 Just this week there has been a huge International Toy Fair in New York, where the major manufacturers show off what they hope will be the next big thing in toys, and might be making it onto the next Christmas list!
Here are a few of the highlights that we think might prove to be favourites with kids this year...
Hello Barbie. Poor Barbie has been struggling to keep up with the Frozen girls, and in another attempt to update her the new Hello Barbie doll will be like a mini My Friend Cayla. She will connect to your wifi and have advanced online voice recognition and artificial intelligence, learning a child's likes and dislikes. Sounds like the stuff of nightmares to me, but Cayla was hugely popular...
Nerf Rival Blasters. Oh dear me no. These won't use foam darts, but tiny little foam balls that come pre-loaded in clips for quick reloading. They can fire at up to 70mph. That's going to sting.
BOOMco Halo Needler Dart Blaster. It gets worse! This is a dart blaster that's a step up from a Nerf gun, as it's a copy of those used in the game Halo and it lights up and glows.
Sick Bricks. At first glance these look like little lego type figures, but they're not. They don't look like they will be much more gross than all the Trash Pack type collectibles, but it's hard to tell from the little sneak peek. They will be cheap, and the parts can be swapped to make new and unique characters, so I can see these being extremely popular in the playground. The fact that they can be scanned into the accompanying smartphone app will make them even more worthy of pocket money.
Zoomer Dino Jester and Zoomer Kitty. The Zoomer Dino was so huge this past Christmas that it was always going to be joined by more toys, and the luckily for the little ones this Dino is much more friendly and less roarsome. These should be a pretty safe bet for next Christmas.
Lego Ultimate Collector Series TIE Fighter / Hot Wheels Elite Back To The Future DeLorean. File these under Boys Toys for the grown ups. They will be far too expensive, complicated and delicate for children to play with, but expect a few adults to be eyeing up these (ahem) collectibles.
So, an A.I. Barbie, more darts being fired at us, dinos and cats tripping us up, and sick bricks. Can't wait. ;)