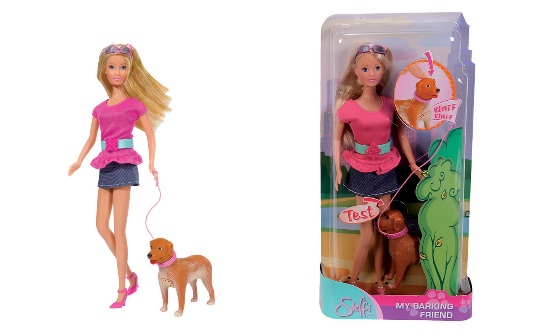 I don't have a girl, so I'm not sure what is in and what isn't when it comes to dolls. But it is likely that a doll as a stocking filler or extra present won't ever go amiss. Debenhams has reduced the price of this Smoby Steffi Love doll and barking dog to £5.60. It was originally £10, and has already been reduced once to £7.
There's not a lot of info on this toy. The site simply says that it is a 29cm doll with 11cm dog - press head for barking function. It is recommended for ages three and upwards, and comes with 2x R44 batteries, included.
There's a customer review on the site, giving the toy a three star rating, but it isn't that helpful. "I bought this doll for my niece, and realised it was too small for her, and that it will not be of any use so I returned it. All the same some small child may love it." I have no idea what the customer means by too small. Perhaps in size? It might be too small for a toddler, but I would expect most 3 and 4 year olds would be fine with this size doll. Or she could have meant that it was too young for an older girl?
Thanks to staronthebluesky at HUKD!