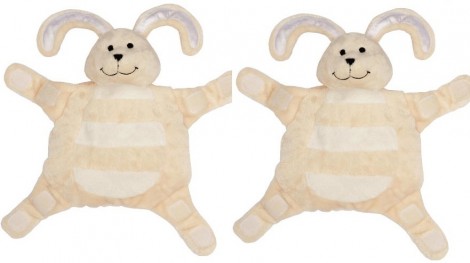 The large Sleepytot is on sale at Tesco Direct for £5.97 instead of the usual £12.95. You are saving £6,98 off the original price for this utterly adorable toy that is more than just a simple comforter.
The cream Sleepytot is a gorgeous cuddly and large companion for your baby. You can attach your baby's dummy to one of its Velcro paws so that baby can always find it – this is ace for if baby is looking for it in the night and might well save you a bleary-eyed trip to the bedroom in the wee hours.
The paws can also be used to fasten Sleepytot to the sides of the crib or buggy straps so that it can go everywhere that baby goes without falling out (usually into the mud) and setting off little tears. The Sleepytot can double as a handy pillow during changing, comforter for tears, and cuddle buddy for snoozes.
Thanks to monkey madness at HUKD!