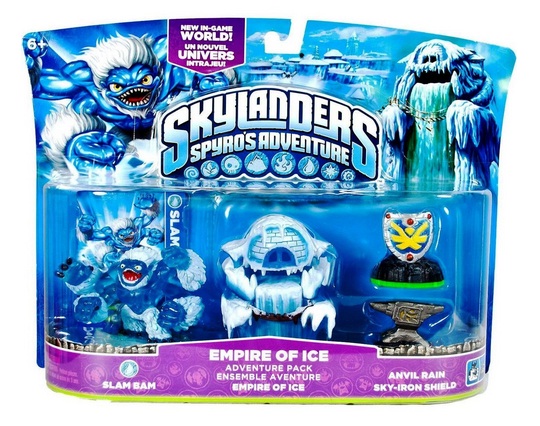 The summer holidays are nearly here, honest. I know there's not exactly been anything in the way of summer yet, but if your school hasn't already broken up (and in England and Wales many did last week) then they'll be doing so this week.
My rainy day activities don't extended to six weeks worth! So throwing in a few extras at this point is a really good idea. Like an engrossing video game suitable for young children. Skylanders is one such game.
The premise behind it is this. For generations, the Skylanders have used their magical powers and weapons to protect Skylands. But now, an evil tyrant named KAOS has frozen and banished them to Earth. Only you can put them on the Portal of Power and bring them back to life in their world to save Skylands forever.
The game is available at numerous outlets (including Amazon where it sells for £17.97, with free delivery using UK super saver delivery). Here's how we got on with the game. Skylanders is available for Windows XP, Nintendo Wii, PlayStation 3, Xbox 360.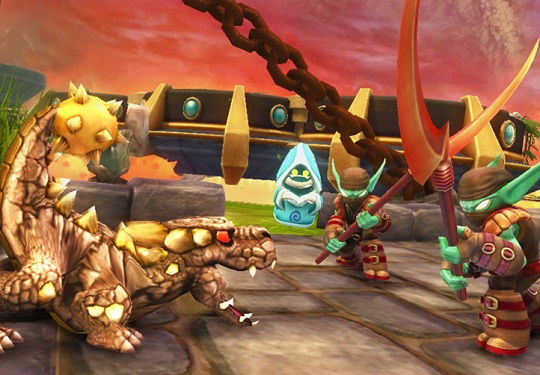 First off, it is definitely tightly packaged. And, wow, did I do my hand in trying to get the various bits and pieces out of the plastic packaging. There isn't a lot of it, mind, there really isn't, but it is designed to hold that tech tightly and is tough to get out.
You get a pack with trading cards, a character poster (which our six year old girl tester loved and is currently reading), stickers, three skylander figures, the game, the portal of power, batteries for the portal, web codes which I am not sure what I am supposed to do with, and a wireless receiver.
I spent ten worried minutes hunting for the latter every where only to find it inside the portal of power battery compartmnent. Clever but fiendish! It took but a moment to plug wireless bit into back of Wii, insert batteries into Portal of Power and get everything set up according to very handy Quick Start guide included in the kit.
Your Wii, if not used regularly like ours, may need an update that takes too long for small kids. This, however, is not the fault of the game.
I then spent a cheerful ten mins hunting for batteries for the wiimotes and reading through the instructions to the game included in the game box. Like most games, this is a hefty manual that is a bit daunting for me as I can't help but think about how I have to now explain it all to a 6 year old.
Then we started playing and it was fantastic.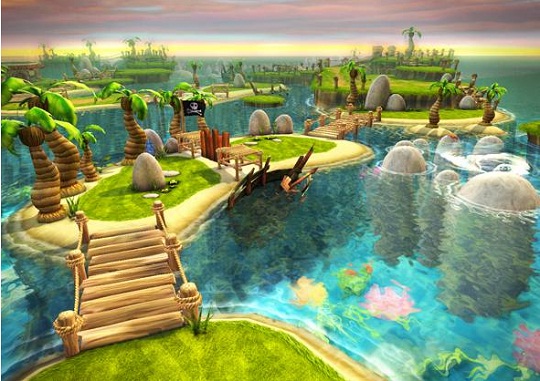 The game is for kids slightly older than our tester but she instantly grasped what she had to do and got stuck in., You need the nunchuk with the wiimote and as the game starts you have to place your character onto the portal in order for it to appear in the game.
At first things are a bit weird. Why can't I have two characters on the portal when it clearly says that two people can play? Then you start and you realise that only Spyro and the lead character gets to start and then you can press A to add characters.
Gameplay is very simple and clear. It's got that old fashioned gaming style that is perfect for kids and incredibly easy to get addicted to. There is no way we are going to even scratch the surface of gameplay with the time we had to review the game, so this is definitely a good choice to keep them occupied over a (possibly) rain sodden six weeks.
Then there are those web cards, which I still don't understand what I am supposed to do with them. It irritates me that I have to google what their role is instead of there being an explanation on the cards themselves. I went to the web address on the cards - www.skylandersgame.com/start - and found an entire online universe complete with game servers and the works.
Registration is pretty simple and doesn't seem to require any security. And lo, you enter an entire universe online. You can now the game, WoW style, online and you enter your web codes to register the Skylanders you bought with your game for the Wii.
It is very comprehensive. Great and brilliant for a gamer like me but does set off parental alarm bells. This is set to be as addictive as anything and now you have to finish games both online and on console? It isn't as comprehensive as the main game and is a series of mini games along with miniadventures and lots of exploration and fun.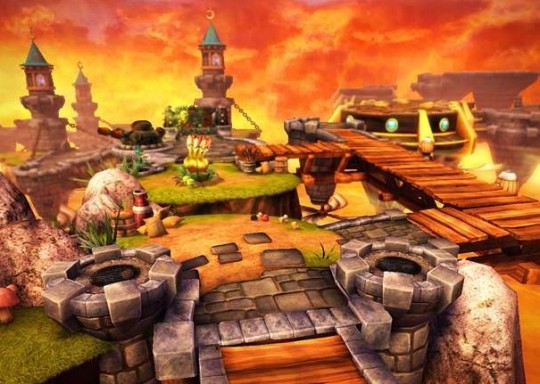 Our tester may not be the age group but she loves the game. She shoots bad guys like a pro – it is that well designed for kids and ease of use. So far she has only asked for adult help once and that's with jumping – a skill we all know takes practice. She also figures stuff out WAY before me – like the fact that the Skylanders are elemental so the fire Spyro couldn't get across water to get to the chest.
I was getting all complicated and saying she should go around, she just took the Skylander Spyro off, swapped it for the water elemental (how did she even KNOW which one that was?) and walked through the water. Genius.
The game is well designed, and very easy for her to figure out on her own, which I like for pushing independent thought and problem solving.
Pros: comprehensive, simple and clear, lots of gameplay in the game and online
Cons: difficult to open packaging, perhaps a little bit too addictive
Overall verdict: 8/10