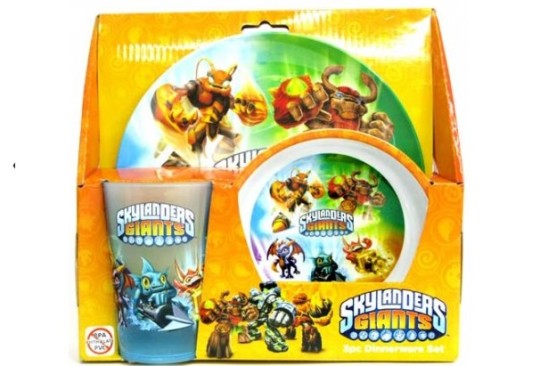 Internet Gift Store are selling the Skylanders Plastic Dinnerware Set for £3.99, but using the codes ICLICKED and FACEBOOK1 you can reduce that to £3.09. It will add £3.50 delivery on, but when you actually go to check out, it will remove it and your total will be £3.09.  Remember that IGS changes the prices as stock starts flying so they do change the prices eventually. 
The Skylanders plastic dinnerware set contains three pieces, a plate, bowl and cup. All the pieces are decorated with Skylanders Giants imagery.
I'm not sure whether it's a boy/girl thing or an age thing but my girls have thus far shown no interest in Skylanders. Their Hello Kitty dinnerware however, is  a great way to encourage them to eat. Sometimes the biggest debate is whether to go for Tinkerbell or Dora, but either way, it gets the food eaten, so hopefully these could encourage your reluctant eaters too.
And not too bad, really - and the free delivery really helps!