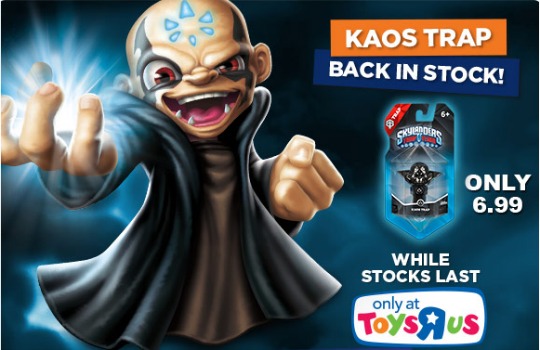 Okay, I'll be honest and say that I have never played this and can only go off what the wonderful web can tell me about it. Toys R Us are very excited that the Kaos Trap from the Skylanders Trap Team game is back in stock at £6.99, and from the prices everyone else is charging for it I'm not surprised.
From what I can gather this Kaos Trap is the only way to trap Kaos in the game, and it's been so hard to get home of that people were charging extortionate prices of up to £60 to those who wanted it for their kids. The RRP of this is just £5.99, but the Toys R Us price of £6.99 is at least £10 cheaper than anywhere else.
You can reserve and collect this in 29 minutes at your local Toys R Us, or home delivery adds a whopping £4.95. The Kaos Traps are restricted to two per customer, so hopefully these stocks should last a little while.