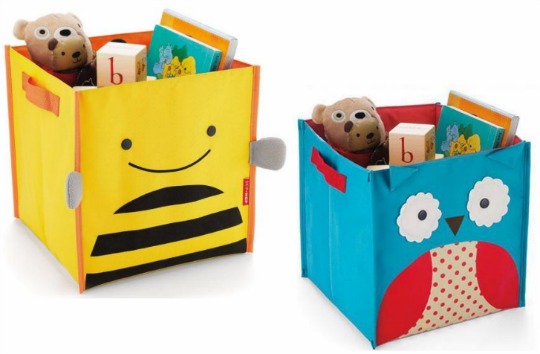 Contemplating a toy clear out? It is always a good idea in the run up to Christmas. You will need some toy storage and we have found some cute boxes on eBay. Reputable eBay Seller: Net Price Direct are selling the Skip Hop Toy Storage Boxes at just £5.50 each. John Lewis sells these very same toy boxes for £19 each! They are even miles cheaper when you add the £1.75 postage fee.
A little birdie told me that these Skip Hop Toy Storage Boxes fit into IKEA's Kallax Storage Units. I am going to grab a couple to try, as they would look great in one of those. They can be used on their own just as well.
They are nice and bright like most Skip Hop items and feature friendly animal faces on them. If you want to teach your child how to tidy up then these will certainly encourage them.
I think these are much more appealing than plain plastic storages boxes, and you can don't just have to use them for toys, how about shoes?