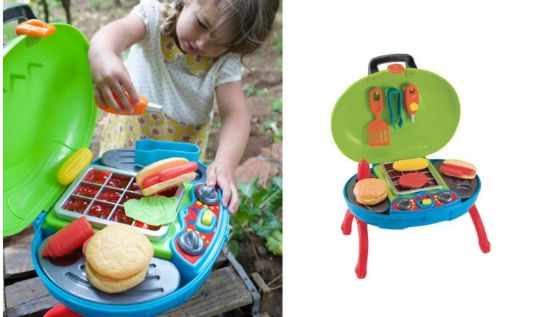 ELC have half price on selected Outdoor Toys at the moment, and one of them is this cute kid's Sizzling BBQ down to £10 from £20. It comes with loads of accessories, and makes the 'sizzling' cooking sounds as well. It definitely looks like great value for just £10.
This is fab for pretend play and although it's in the outdoor section there's no reason why they can't pretend to do a bbq indoors. It's a fold out set that makes sizzling cooking sounds, and has 'glowing' charcoal to cook the food on. It includes a toy lighter (which I think I might remove), a ketchup bottle, seven pieces of playfood, spatula and tongs. All of the food and accessories can be stored inside the lid when they're not being played with to keep them safe.
The Silling BBQ can be collected for free from ELC stores, delivery is free when you spend over £50, otherwise charges are from £3.95.