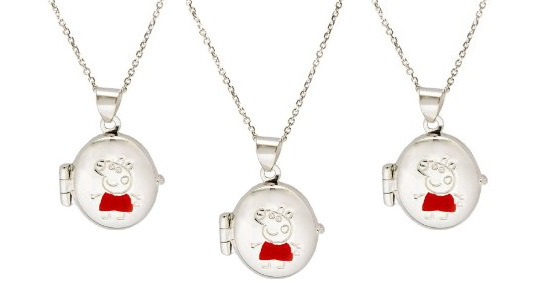 Today is your last chance to order from Amazon in time for Christmas delivery (you'll be paying £5.99 for the privilege too) and if you're stumped for something a little special for a Peppa Pig fan then this silver Peppa Pig locket may just save your bacon (perhaps I shouldn't use the word bacon and pig (Peppa) in the same sentence!)
I had a silver locket when I was little and I loved it; I loved that I could keep something 'secret' in it that no one else could see unless I chose to show it to them.
The locket itself is oval in shape and features Peppa Pig on the front wearing a little red dress, which adds a nice splash of colour, and the chain is a 35.5cms silver trace chain.
The original price for this silver Peppa Pig locket is £34.65, Amazon have reduced it down to £10.64 and you have until 2pm to order it and select next day express delivery to ensure it's with you in time for Christmas day.
Well, off you go then! Hanging around here isn't going to make sure you get one in time to wrap up for your special Peppa Pig fan now is it!
Thanks to BEANZ-ON-TOAST at HUKD