Shhhh! Argos 3 For 2 On All Toys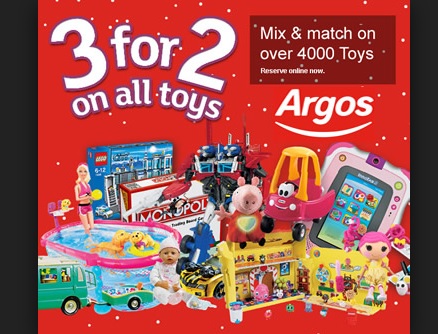 UPDATE : THE 342 IS NOW LIVE AND ACCORDING TO THE APP WILL RUN UNTIL OCTOBER 3RD.
Would you believe it, could it be? It's another toy sale. Well, we think so. Argos should be having their 3 for 2 toy sale coming up in the next few days - according to people who claim to work for them, it should start on Wednesday and run till either the following Tuesday or Friday, depending on which staff member you choose to believe.
The 3 For 2 sale is on all toys, and again, conflicting reports as to whether that will include tablets or computer games or not - one says yes, one says no. Mostly we're agreed that they don't really count as toys, but I guess we'll have to wait and see.
There are still a few offers on at Argos right now, including 2 for £15 - I was really excited about this with the digibirds, but they've been out of stock forever! There's also 2 for £30 on toys and 2 for £20 on selected games at the moment, but we suspect these will end before the 3 for 2 starts, and it's also doubtful that it will work on clearance items.
It's a bit of hurry up and wait and see right now though - as with Smyths last week, there's loads of speculation and guess work, but we'll be sure to let you know as soon as we do!
And a great little tip from tiff2511 on HUKD: reserve anything you want the night before as you might notice a price increase
Thanks to Kat & Elaine on PlayPennies Facebook and mccmoo and MDH91 at HUKD