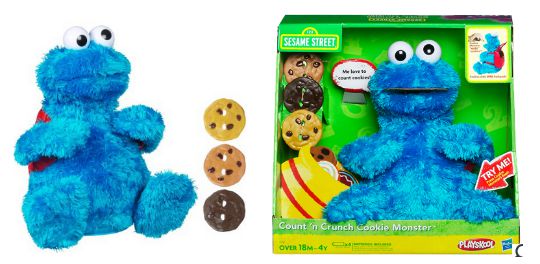 Cookie Monster is really popular in our household, my husband watched Sesame Street as a child and now thanks to The Furchester Hotel on CBeebies my 3 and a half year old loves him too! I spotted the Sesame Street Count 'N Crunch Cookie Monster online recently but didn't fancy paying around the £40 mark. I was over the moon to find it on Amazon via seller net_price_direct for just £12.99 plus £1.88 for UK home delivery.
This toy is designed to help little ones with counting. By feeding the Cookie Monster with the cookies provided, he counts out loud and gobbles them up. He makes all the sounds you would expect from the Cookie Monster! The cookies end up in his little back pack and you can remove them and feed them to him again to repeat the fun. He also likes to be tickled, you can press his foot repeatedly to make him giggle and squirm.
This toy has great reviews and is recommended for children aged 18+ months. I love this little guy!