Seedling DIY Friendship Bracelet Review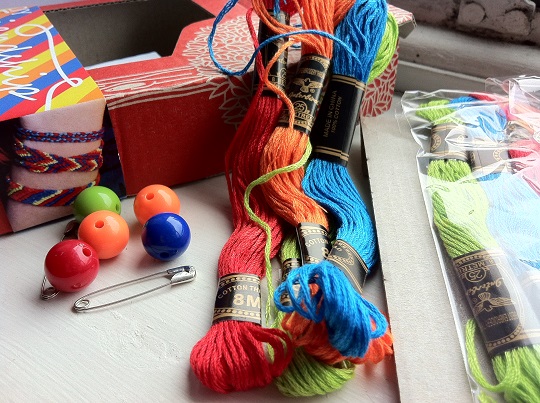 Seedling are a New Zealand company that take a bit of a different approach to toys. All their items are made of good quality materials. There's not a bit of shiny plastic in sight. They're all also designed with the aim of working with a child's natural tendency to play, create, and make.
I have to say that in researching for this review I got a bit lost browsing on their site. There's so many lovely toys, that will appeal to children. Often I find that these 'worthy' sorts of toys are aimed more at the parent who is buying them, than the child.
You can buy directly from their online shop in the UK. Just select GBP as the currency in the drop down menu. We received the very popular Seedling DIY Friendship Bracelets kit for review. Read on to find out if it was a hit or a miss.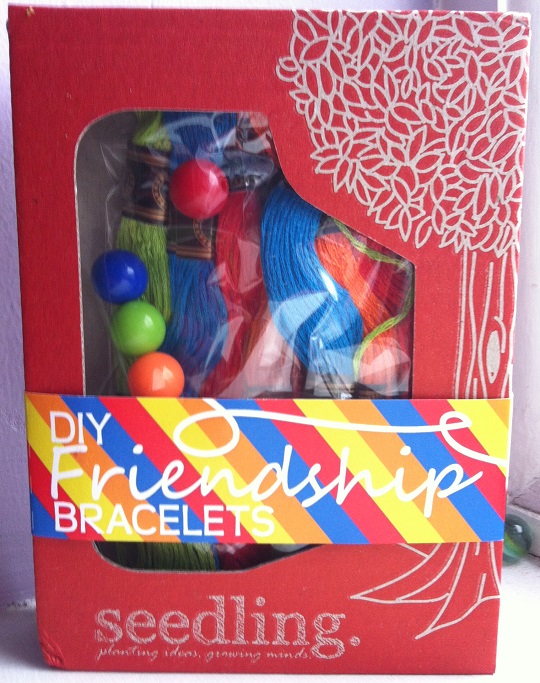 The Seedling DIY Friendship Bracelets kit is priced at £3.54. Now that, right there, is a huge plus to me. An excellent price although you have to take delivery costs into account. This ramps up the price quite a bit, but works out better if you are buying a number of items. You can also buy this kit from companies in the UK so it might be worth googling.
The kit comes in a lovely cardboard box. Packaging is friendly, and seems environmentally sound. The only plastic are the bags that the items are in.
Inside you get two lots of four embroidery cotton colours. In my pack these were green, blue, red and orange. There are also some beads, safety pins, and those all important instructions.
I don't know how difficult it might be to do this from the instructions from scratch as I used to make these friendship bracelets all the time when I was younger. It was like falling off a bike - very easy to do.
The beads were a nice touch, and the cotton is a good quality. The colours are a good blend as well - you'll be able to make a lot of nice designs out of these.
It didn't take my little helpers long to make a bracelet, although it is very repetitive work and can get boring. I recommend doing it while watching TV or talking with friends.
As far as the instructions go, I'd have liked to have seen a video clip on the website. It is helpful for those starting out to see it being done. That's how I learned. However, you can easily search Friendship Bracelet on YouTube and quickly find a demonstration.
As an alternative to a party bag, or as a gift, I think that this is just lovely. It is a good price, and although it is simple and you could go get all these items yourself. It is handy to have them in one box. Also it isn't as easy as it used to be these days to find a haberdashery shop or department selling these items.
Pros: good price, good quality materials, nice colours
Cons: more in the way of instructions would be good - perhaps some ideas on various patterns, and a video clip on the website.
Overall verdict: 9/10