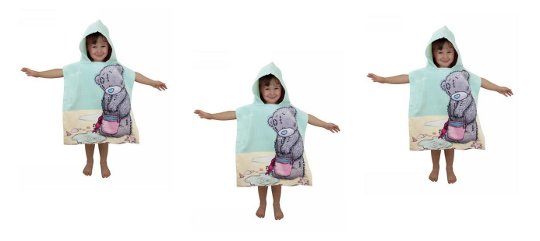 Play.com are selling a Me To You Seaside Hooded Poncho for just £5, including free delivery – saving you a lovely £7.99.
It's called a "Seaside" hooded poncho because of the image on the towel, rather than the fact that it is meant to be worn on the seaside.
In fact, it would be perfect for swimming in your local pool, or even for bath time, if so required – and of course, if you're jetting off somewhere sunny this Christmas, well… lucky you – and your little one has a really cute towel to take along!
These Tatty Teddies are popular with young and old – my sister loves them – and kids generally do too.
I think they'd make a great little gift, or a stocking filler, even, and at a fantastic price… and if these don't float your boat, Play.com have a few other hooded towel-ponchos for not much more available too.
Thanks to Natz85 @ HUKD