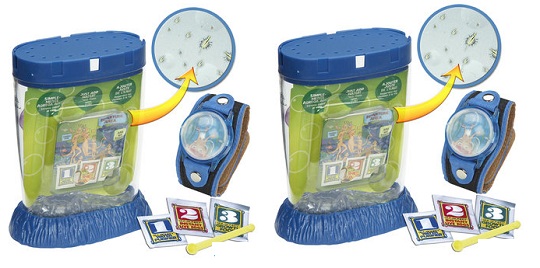 You have to go have a look at this to see how really cool it is. The Sea Monkeys Wrist Aquarium Grow and Show Set allows you to take your Sea Monkeys wherever you go and show them off to all your friends. Toys R Us has reduced this awesome Christmas gift from £15.99 to £14.99. Okay, it's not a massive discount but it's still a fabulous gift.
Sea Monkeys exist in suspended inside their tiny eggs for many years. Hatch your own Sea Monkeys and watch them grow right in front of your eyes! The set comes with a tank that you place the eggs into and watch them hatch and grow. You can then take your Sea Monkeys with you wherever you go by transferring them into the wrist aquarium.
Show off your really cool pets to all your friends at any time as you can always have them with you. I love this and think it's a great gift to teach kids to look after pets and take responsibility for them while having loads of fun at the same time.