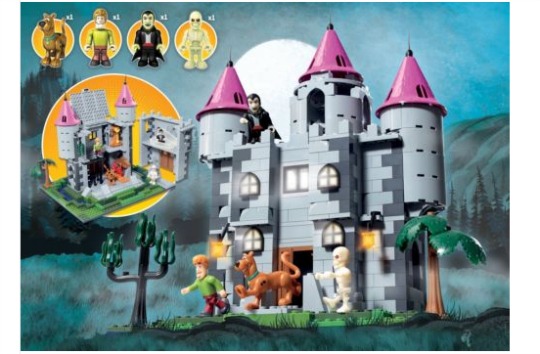 If your kids are Scooby Doo fans then this is a bargain to grab now and store away for birthdays or holidays. The Scooby Doo Dracula's Castle Mega Play Set was originally £49.99 and is now down to £17.99 with Free Delivery at Argos Ebay Outlet. I can't find this toy anywhere near this cheap anywhere else, so it's no wonder they're selling fast.
It will appeal to Lego and Mega Bloks fans as it's a construction set with nearly 700 pieces. You have to build the castle and then you can use the four character figures that come with it to create your own adventure!
The castle door opens for Scooby and Sgaggy to explore inside the spooky rooms, and there's even a trap door and a glow-in-the-dark coffin where Dracula can hide! (Can you tell how much I want this?)
Although the original price seems way too high, you are getting an awful lot for your £17.99 with this play set. The building time and then being able to play with it using the figures of Scooby, Shaggy, Dracula and the Skeleton means that it's going to keep the children occupied for a long time!