The Scooby Doo 3D Game Review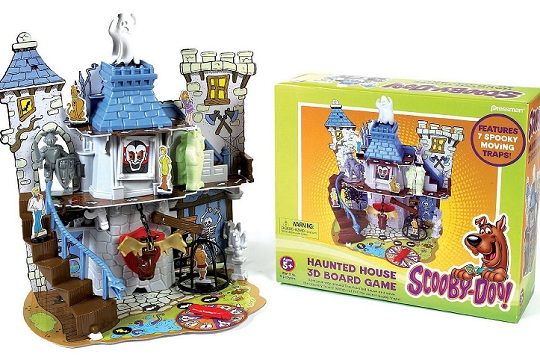 The Pressman Scooby Doo  3D Haunted House board game was one of the best Christmas presents I ever bought for my Scooby Doo mad daughter. The game was on sale on Amazon for £10, the price is currently back up to £25 with free delivery, when I got it as the discount was so good I thought it was worth a shot.
Setting up this 3D Scooby Doo board game is not that much fun. The instructions are vague at best and I heard plenty of child unfriendly words muttered by my long suffering husband as he attempted to build the kit on Christmas Day. Although it wasn't helped by my daughter's jumping up and down with excitement.
The bad points of this game are: lots of fiddly and small pieces that can get easily lost, difficult set-up with poor instructions, occasionally parts of the 3D game need to be rebuilt and it takes a while.
The good points are far more numerous. First off the quality of the game is quite high. I would not pay the full price for it though, so wait for it to go back on sale on Amazon. This Scooby Doo board game is awesome, but short.
I also thought I would get bored playing it with my daughter, but instead we had so much fun. We played the game about five or six times in a row and we laughed the whole way through. There is potential for kids to get frustrated or upset, but being eaten by a mummy or dropped three stories by a wobbly staircase is just too much fun.
I would really recommend this as a gift for your child's birthday or a special occasion and it is perfect for kids over the age of five.