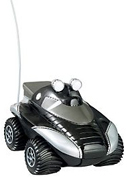 This all-terrain amphibious remote-controlled car is the sort of thing little boys' dreams are MADE OF!  It's rough, it's rugged and will, I'm sure, involve actively seeking out the most filthy muddy puddles to drive it through.
This mean-looking 4 x 4 RC car will tackle all types of terrain - grass, gravel, rough ground and mud, water will prove to be no obstacle as the Morphibian floats too.  The tyre treads on the wheels act like paddles, driving and steering it as effortlessly off-land as on giving you total freedom to drive the Morphibian wherever you want to - except maybe on the road, although perhaps with a valid tax disc?  But I digress...
The remote control unit works on a 40MHz frequency (if you need to know that technical bit of info') and its range is excellent at between 20 to 30 feet.  The control unit requires 2 AAA batteries and the Morphibian itself is powered by 3 AA batteries (neither of which are included - rechargeables at the ready then!)
Now, the reviews I've read are mixed with some singing the Morphibian's praises whilst others appear to have been a little disappointed.  Also, the Science Museum website have an age recommendation of 8+ whereas Boots say its suitable from 3+ - so I'd suggest be guided by your own gut-feel and judgement.

All that said, at £15 this is an excellent price for the Morphibian as it's being sold by the Science Museum for £30, PriceRightHome.com for £29.99, Amazon for £23.99 and Play for £22.99.  You'll also bag yourself 60 Boots Advantage Card point too.
Thanks to andywedge over at HUKD!