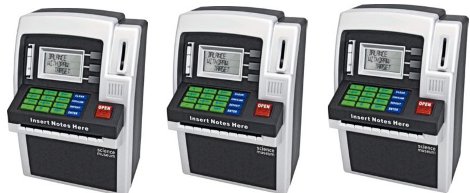 This Science Museum Mini ATM Bank money savings box at Argos is £9.99, half off its £19.99 usual price.
I think this is a pretty fun way of getting children invested in saving money,  and getting to grips with banking, and money in and out from an early age.
The ATM comes with an ATM card included, and your little one can deposit coins into the 'bank', which will recognise the coins and automatically record the total amount.  I must admit, one of my favourite things about having a jar full of money was always guessing how much was in it. I'd always underestimate the amount in fear of being disappointed, then be really chuffed when there was more than I thought – but if you're saving up for something specific, or need motivation to stay on track this would be ideal. (For example, chucking £5 in every time you would have bought a box of smokes – seeing the total rise rapidly could provide just the motivation you need to not pick up the habit again!)
You can also program in a birthday and user name and the ATM will play a birthday song on your birthday and a Christmas song on the 25th of December.
The ATM only recognises  UK Sterling, ,so don't buy it for anyone abroad, and it requires 3xAA batteries, which are included.
Thanks to nhskbhatia003 at HUKD