School Year Calendar 50% Off @ KTwo Products : PlayPennies Exclusive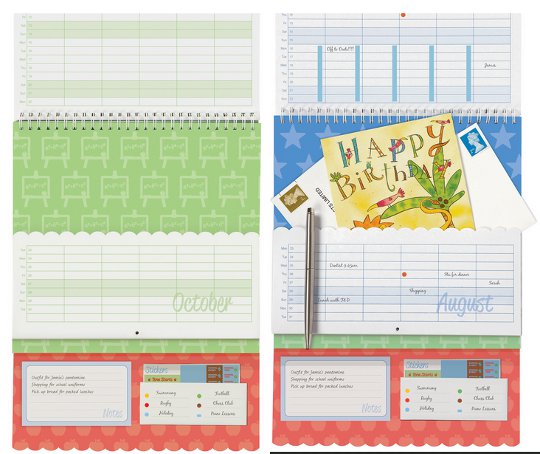 Around the start of the summer, I reviewed the School Year Calendar at KTwo Products, and now, on the cusp of the new term, it's back, and for PlayPennies readers, there's 50% off, making it just £5, all inclusive.
Have an organised start to the school year
Discount: 50%
Expires: 6 September 2012
Discount Code: PLAYSCHOOL50
So, this calendar is normally £12.99, but it's currently on offer anyway for £9.99. Take 50% off and it lowers the cost by an additional £4.99 to £5, and includes free delivery too.
What makes this a worthy purchase?
The calendar runs from August 2012 to August 2013 and has five columns on each page for up to five family members. There's also a sixth column for birthdays . The school year calendar has no pictures, but instead has funky shapes and background colours. Each month's 'page' has a pouch for keeping bits of paper, receipts, vouchers, notes, or invitations. Below the calendar there's a sticky note pad, which is useful for shopping lists and reminders.
It also comes with a selection of ready-made stickers with things like 'term starts' and 'term ends' written on them. Other stickers include 'School Photos', 'School Trip', 'School Event' and 'No School' as well as dots in five colours for repeat events – like weekly rugby games in the example picture. Finally, there are stars and 'black out' strips for weeks of holidays or special events, or whatever you need it for.