Scaryz Infrared Rat £4.99 @ Argos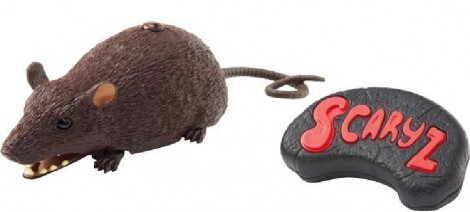 This is too strange and weird, and compelling, to not write up as a deal. What you have here is an infrared rat that used to cost £19.99 but now only costs £4.99 at Argos. Yes, you read that correctly, an infrared rat…
The Scaryz infrared rat has realistic movements and sound effects and works up to 16 feet (5m) from the controller. He needs you to feed him five AAA batteries that are not included, and he is only suitable for children over the age of five.
So, this is both weird and cool at the same time. On one hand the fun you can have making people squeak because they think a real rat has just run across your kitchen, is very compelling. On the other hand, it would get boring pretty fast I imagine.
Although, five year olds could probably eke out hours of fun from this random toy. I have no idea why anyone would have paid the original price of nearly £20, but £4.99 seems a reasonable cost for a crazy toy.
Thanks to amibees at HUKD!