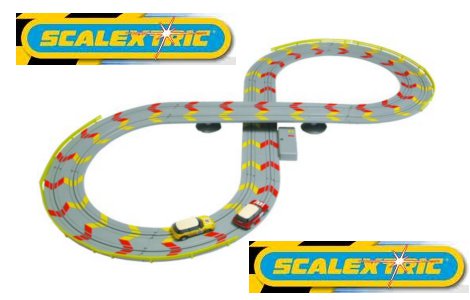 Play have a rather good deal on this My First Scalextric: Mini Coopers set, having reduced it from £34.99 down to £17.99.
Lots of happy childhood memories came flooding back when I saw this My First Scalextric: Mini Coopers set!
My brother had one and, not being a Barbie or Sindy sort of girl, I loved playing with it and racing those cars round and round.
Admittedly, as this was the best part of 30 years ago, the cars weren't BMW Mini Coopers, but they were Minis and they had names to - one of them was called Mini HaHa...that was the red one, and it was mine.
The track is a nice and simple figure of eight, for a frustration-free introduction to the world of Scalextric racing - there's nothing more irritating than spending more time putting your car back on the track than driving it round and round.
My First Scalextric: Mini Coopers comes with two controllers and two BMW Mini Coopers in red and yellow.
There are also red and yellow chevrons on the track, so small people will find it easy to remember which car goes on which side of the track.
Happy Christmas Day Racing!
Thanks to emidee at HUKD