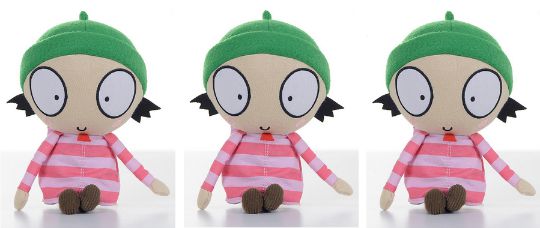 We love Sarah and Duck in our house, I recently bought my daughter the small Sarah and Duck soft toys and paid around £16 for them both. This is a brilliant deal for the Sarah Talking Soft Toy over at BBC Shop. It is currently on offer for £4.49 but using the 15% off Code BANKHOL15 Lisa told us about a few days ago, the price comes down to just £3.82 including free delivery. The code ends at 11.59pm tonight so be quick! What a great stocking filler this would make at Christmas.
Alongside this fab offer you can also claim a free 2015 calendar with the order of this toy only, it is automatically added to your order. (while stocks last). I know there's only a few months left of the year but a freebie is a freebie! You could always use it for cutting and sticking with your little ones or for using the pictures as posters.
This lovely little toy also talks when you squeeze her tummy. She says phrases from the TV show, such as 'come on duck'. You can also get the Duck toy but the only one they have available on the website is the Large Plush* and it is £12.99 before any discount.